The Rotorua Fishing & Casting Club Inc. was formed in 1959 from an existing club that had been operating casually since 1956. Originally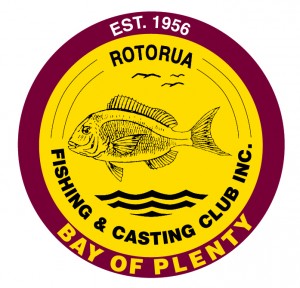 formed to foster interest in all forms of angling both fresh & salt water, today the club tends to concentrate its activities around beach surfcasting. The clubhouse is sited close to Otamarakau and overlooks the sea in an idealic setting. Club members use it regularly for all club-fishing events as well as socially.
To Join the club requires a proposal by an existing member and a payment of a family joining/yearly subscription fee, set at present at $50. Part of this yearly subscription is payed to The New Zealand Angling & Casting Association to which all our members and their families are affiliated. A monthly newsletter keeps members up to date with events.
Weekend Monthly Club Surf Fishing Contests are held between September, which is the start of the fishing year for the club and June. The beaches between Makatu and Thornton are used for these contests, which run over the Saturday night. A Prize-Giving follows the contest on the Sunday morning and is often followed by a BBQ. Other club events included the "Teams Event" – highest weight of snapper per two-person team and the "Mixed Pairs Event" – highest weight of fish all varieties per man & lady team.
Interclub contests are held annually with other local fishing clubs alternating between our waters and theirs. A special shield trophy is at stake and the competition is high.
A Dry land Casting day is held once a year, usually in May, when members compete in distance and accuracy events. A handicap points system evens out the experience levels. This is a wonderful opportunity for anglers new to surfcasting to compare tackle notes and to observe the casting techniques of the more experienced anglers.
Our January Bonanza fishing contest is held every Auckland Anniversary weekend and is a very popular and well-supported contest. Most of the club members are involved in some category either as beach wardens or officiating at the headquarters and the whole club gets behind this once a year event.
Download
Nomination Form