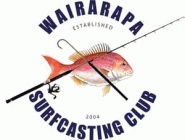 The Wairarapa Surfcasting Club, was founded in 2004, by keen local fishermen/women who wanted to get out fishing and have the added advantage of entering fishing competitions and casting events, with like minded people.
We do not have any NZACA Records as yet but that's only a matter of time.Our Club encourages all members to increase their skills by sharing ideas, showing instructional video's and experienced guest speakers, at our monthly meetings.  "Would be newcomers" are welcome to these meetings, and also our club organized fishing days, and weekends.
Club nights are held on the last Tuesday of each month. (Ph 377 7351 for details).  Meetings commence at 7.30pm and generally run for an hour and a half. A raffle is drawn and a voucher is presented for the last fishing days heaviest fish.
Club members are kept informed throughout the year on, points ladder, fishing calendar updates,casting days and other issues pertaining to the club.
Contact the following committee members for friendly and helpful advise.
Contacts:
Club Captain:                           Johann Fourie                     06- 377 7351
Treasurer:                                Janice Chappell                   06-308 8414
Club Rep NZACA                    Stephen Hoedemackers      027 687 3602
Weigh Master:
Points Co-ordinator:                Malcolm Mattson                 06-378 8651
Club New's Letter:                  Beverley Mattson                 06 -378 8651
Committee member:               Stephen Hoedemaeckers    06-308 8414